Tour to Wadi El Natroun Monastery from Cairo, Wadi El Natrun monasteries Tour,
Wadi El Natrun monasteries Tour form Cairo
Start with breakfast at your hotel, our tour guide will be waiting you at the lobby to start your  trip to Wadi El-Natrun which is considered the heart of the Christian monasticism in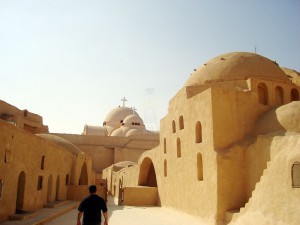 Egypt.
Originally there were here around 50 monasteries, Today you will be visiting the four famous monasteries of Wadi El Natrun.
Our tour guide will start with the oldest one Deir al-Baramus also known as monastery of Baramus which is one of the greatest most sacred monasteries in Egypt.
Tour Itinerary:
Drive around 1 and half hour from Cairo to Wadi el Natrun, start with Deir al-Baramus where you will meet some Egyptian priests who will introduce the site to you and give you so much information about it.
After that visit Deir Anba Bishoi also known as monastery of Anba Bishoi whose body is buried in the monastery, have a walk around the monasteries sites so you can watch the primitive life they have there, Then visit Deir El-Suryani the smallest one and also very compact of all the monasteries there.
Tour Inclusion:




• All transfers and pick up services.
• Entrance fees
Tour guide
Private car and driver
Tour Exclusions:
• Tipping
Price per person
2-3 Persons 4-6 Persons 7-10 Persons
$80          $ 70          $ 60
 Single person private tour: 110$