Talaat Harb Square
Egypt last minute representative will meet you at your hotel and take you to begin your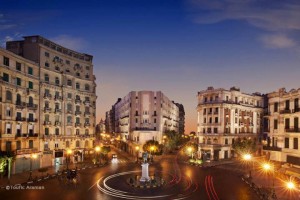 tour in Talaat Harb Square, it's (Suleiman Pasha Square formerly) a month and the most important fields in Cairo are all due to its unique location in the heart of Cairo and on many of the streets and other key fields. There in the middle of a famous statue of the founder of the modern economy, Talaat Harb.
Statue Harb
Khediue Ismail dreamed that converts Cairo to a city comparable to Paris in beauty and Rngaha and has brought many of the Italians and the French engineers to condominium was built in the European style. Upon completion of the construction of the buildings was named the street and in the field as Suleiman Pasha Square proportion of Suleiman Pasha Frensawi founder of the Egyptian army during the reign of Muhammad Ali Pasha in his honor, a statue of him was created in central field. The field and remained the street of that name until the July Revolution in 1952 and decided to get rid of all the symbols and property bygone era.
The transfer of Suleiman Pasha statue to the Military Museum in Cairo and put in his place Thmthal Egyptian economist Talaat Harb street was named and a field in his name which is called the rest so far.


Talaat Harb Square is in the center of Cairo, 400 meters from Tahrir Square to the south and 775 meters from the field of Commons in the north and 850 meters from the field Salam Aref east and 400 meters from Abdel Moneim Riad Square to the west. And passes by Talaat Harb Street and Avenue Mohamed Sabri Abou Alam and Kasr El Nil Street and Avenue Mohamed Bassiouni.
Field during the First World War
Months features:
Building Grube
The Yacoubian Building
Omar Effendi Building
During your tour you will have lunch at local restaurant, finally you will be back to your hotel / cruise.