Sami Suleiman, head Investors Association Nuweiba and Taba in South Sinai he will organize four  Egypt luxury tours between Cairo and Taba each week to develop a line of flight between Cairo and Taba on global networks to promote tourism in southern Sinai from the first day of the Feast.
He added that the South Sinai Investors workers in the tourism activity supported this route agreement with Egypt Express Co. to boost tourism in southern Sinai.
He said the flights will be organized on Thursday and Sunday of each week and the ticket price as well to stay 3 nights and away breakfast 1250 pounds with the support of the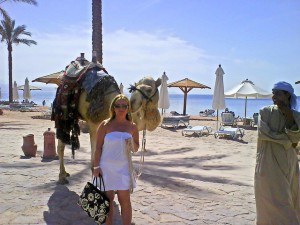 owners of tourist facilities participating in southern Sinai.
And security conditions in South Sinai said Suleiman security in South Sinai 100% and is unaffected by the ongoing operations in northern Sinai, where chasing army and police elements that committed terrorist incident treacherous week to go in Rafah, killed 16 dead and four injured.
He explained that the agreement on the operation of this air route with the previous government and hoteliers in southern Sinai insisted on running after the accident Rafah.
For his part, the pilot said Helmi glaucoma, Chairman of Egypt Air for domestic routes and regional Express in a press statement that the operation of the Cairo was in accordance with the cooperation agreement that was signed recently between Egypt Air and the Tourism Ministry to restart the line Cairo – Taba system cost sharing in order to serve the men Business and restore travel, tourism and investment in Taba and Nuweiba, South Sinai.