Egypt Pyramids is the oldest of the seven wonders of the world, the tombs of the Pharaohs, was filled with pathways and cemeteries in one day
Property of the Kings, which are invaluable, and buried with them so use them in other life as far as they claim
Historians called the name of the Old Kingdom "era builders of the pyramids," a reference to the large pyramids which we see all of us,
And built in the belly of the right hand of the desert valley, from the province of Fayoum south of Cairo to the north.
But why the pyramids were built and what is their purpose?
Attributed the idea to build the pyramids to the ancient Egyptians believed in the immortality of the soul, and to their belief in the Baath again
And the existence of eternal life. Of the ancient Egyptians built the cemetery where the vulnerable are placed after the body stuffed, and provides a full range
the needs of the Dead as tools and pieces of furniture and types of foods and drink, which was used in his life, even if they came
Spirit and replaced in the body, he returned to his eternal rights. Spray-painted the walls of the cemetery the usual  sceneries, the intervention of pleasure for the dead.
The largest of these Tour of the pyramids is the Pyramid of Cheops' son of the king, "Bent" and his successor in office took the construction of the Great Pyramid twentieth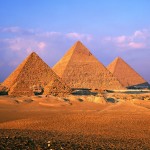 Years and has a height of 148 meters and its base area 13 acres and the length of each side of the ribs its base about 230 meters, with an
The amount of stones used in its construction about 2300000 pieces of stone weighing in total about 5500000 stone
The East of the pyramid is "Chefren" but shorter in height of the pyramid "Cheops."
The third pyramid is " Chefren " was built by King Menkaure, a mummy in the next sentence after Chefren has gained
King "Menkaure" a good reputation in contrast to Khufu, Chefren, who soon became famous injustice, cruelty and tyranny of servitude as a result of thousands of
Egyptians in the ongoing work… To this day, could not weather factors that affect the pyramids.
It remains the most important question: How was the building stones of the pyramid and the transfer of that distance and lifting it high altitude, and so as not to prolong
I'll show you the results (facts) directly without the details and research:
A team of scientists from architecture, Egyptology, that the Pharaohs were able to cancel the gravity when lifting stones
Used in building the pyramids and move long distances, and that by directing vibrations of a sound and shipments
ELECTROSTATIC SPRAYING to facilitate the process of lifting.
Dr. Sayed Karim Professor of Architecture at Cairo University and an expert on Egyptology of the pyramids that this interpretation of the way
Building the pyramids came through Breton: The first in a tomb at Karnak architects of the Middle Kingdom, and the second at the Museum
Louvre in Paris.
He said that the Pharaohs were able to control many of the strong cosmic, and took advantage of their energy in achieving the purposes of scientific,
He added that the miracle is the Pharaonic how to adjust the angles and geometry of the universe and linked to the movement of the stars, and trends.  For more info click here:
Egypt last minute tours, last minute holidays, deals, tours to Egypt, shore excursions