I wanted to let you know how much my husband and I enjoyed our Alexandria shore excursions. We were in Alexandria on Oct. 6-7 with Celebrity Silhouette cruise. Our tour guide, Hamdi, and driver,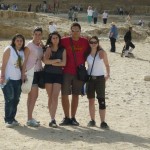 Sapar, were waiting as promised when we exited the terminal area. Sapar is an excellent driver and got us safely to Cairo, around the city, and back to the ship. Hamdi is a wonderful guide and provided us with explanations of the sites that we saw and descriptions of Egyptian life, culture, and history. We stayed overnight in Cairo at the Mena House which is a fabulous hotel and waking up to see the pyramids from our window was an amazing experience.
Several of our family members tried to discourage us from visiting Egypt due to concerns about safety. Obviously the American media focused solely on some isolated incidents. During our brief visit, we never felt unsafe and are happy that we had the opportunity to see a little of Egypt.
Hamdi made our visit special and we were very lucky to have him for a guide during our two days. I would not hesitate to recommend him as a guide. He did an amazing job. His English is excellent and he was enthusiastic about showing us around even though he worked a couple very long days.
Thank you again for providing an amazing tour!
Regards,
Dee Sanders