today who founded the World Tourism Organization of the United Nations and in 1975, which serves as the Secretary-General has now Jordanian Dr. Taleb Rifai.
Today celebrates the world anniversary of founding of the organization, which was chosen to be "World Tourism Day", which involved the world in celebrating in each country through the establishment and organization of Egypt vacation, Egypt packages, Egypt vacations packages activities, cultural and seminars that help strengthen tourism and promote awareness of tourism and the definition of its importance.
As the World Tourism Organization (WHO) officially celebrate the occasion every year in one of the countries in the world to emphasize the importance of tourism in supporting the economies of the countries and provide jobs seriously considering that tourism is a labor-intensive industry and works out in the world about 250 million people.
The organization had held a celebration last year in the city of Aswan to support Egypt after the revolution.
And this year to be held today celebrated the official in the Canary Islands, Spain, under the theme "Tourism and Sustainable Energy" to coincide with a ceremony this year's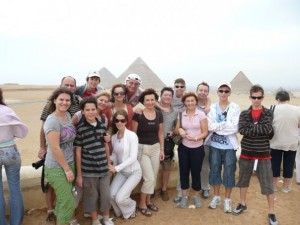 United Nations "International Year of Sustainable Energy for All".
He said Ban Ki-moon, Secretary-General of the United Nations in a letter to the World Tourism Organization on the occasion that tourism is now one of the largest sectors of the global economic, and more able to support environmental protection policies and green growth and help international efforts to address climate change.
The World Tourism Organization of the United Nations through its official website that the celebrations this year, which co-organized by the organization with the Spanish government and the Government of the Canary Islands and local management town MAS Spanish include the establishment of a center for research and studies on tourism and energy continuing participation of experts in the fields of tourism, energy and air transport and hospitality in extensive discussions on ways to use continuous power in the travel and tourism sectors.
Among paragraphs outstanding in celebrations this year the official launch of the Spanish version of the "energy solutions hotel" known as HES, an initiative led by the World Tourism Organization to help hotels reduce their energy consumption, as there will also be an exhibition of tourism and energy continuing through which showcase the latest technologies in this field.
In Egypt, preparing the Ministry of Tourism to celebrate World Tourism Day in line with the motto of this year's (tourism and sustainable energy: strengthening sustainable development) and the 6 p.m. today Azhar Park study, headed celebrations Egypt this year World Tourism Day Mr. Hisham Zaazou, Minister of Tourism.
The celebration this year include the word to Mr. and Minister of Tourism, followed by rehabilitation World Heritage site community development submitted by the Tourism Development Authority, followed by renewable energy by the electricity regulator, as witness the ceremony honoring a number of the pioneers of the tourism industry in Egypt.