Over the 17 months since the outbreak of the popular uprising that toppled the ousted Egyptian President Hosni Mubarak and introduced the Egyptian tourism sector is in crisis.
Many of fear working in the  Egypt last minute tours, last minute holidays, deals, tours to Egypt, shore excursions  sector does not recover sector if President Mohamed Morsi imposed restrictions on tourism beaches.
It does not mention "Renaissance Project", a program Freedom and Justice party political arm of the Muslim Brotherhood, which is located in 81 pages, tourism beaches that will come the largest share of revenue in the tourism sector.
Officials of the group said they had other priorities now, says workers in the tourism sector tourism beaches represent about 80% of tourism in Egypt. It has become a vital sector in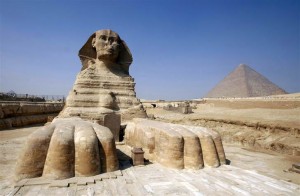 the Mubarak era after the establishment of a group of villages and tourist resorts along the Red Sea coast of the Sinai.
After that was a magnet for lovers of ancient civilizations and unable to pay the cost of trips in luxury ships vanilla Egypt has become a real competitor to Spain and Turkey for its sunny beaches that attract millions of European tourists at low cost.
The proportion of working between 12% and 15% of the labor force in Egypt to meet the needs of foreign visitors, either directly or indirectly.
Said economist Samir Makari tourism represents 11% of GDP, and a quarter of foreign currency earnings.
There are many labor-intensive sectors related to tourism, such as construction and food distribution and the carpet industry.
The uprising showed last year and the global recession which affected demand for travel heavy reliance on this vital sector. Although the protests centered on the major cities in the north of Egypt and did not affect any of the shores of the Red Sea resorts secured and largely isolated tourists canceled their trips anyway.
That prompted hard currency reserves at the central bank to lower than $ 36 billion before the uprising in January / January 2011 to 15.53 billion dollars last month, which is less than the value of three-month deposits, a level prepared by serious economists.
After decline in the number of tourists coming to Egypt sharply in 2011, official data showed that the numbers remained low in the first five months of this year increased by 26% from the level in 2010 to reach 4.4 million tourists.
Tourism revenues fell 24% compared with 2010 to $ 3.6 billion.
Minister of Tourism Mounir Fakhri Abdel Nour Said last Tuesday that he expected that the country has received more than 12 million tourists by the end of 2012, an increase of 23% in the previous year.
Abdel Nour said that no political force or a political party or any government is working within the framework of a democratic and accountable to the public to implement policies that hurt tourism in Egypt.