We thoroughly enjoyed our short 2-day stay in Egypt with Egypt last minute. Bassem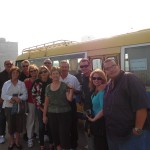 Naguib was an excellent guide and did everything possible to ensure a great experience with Egypt shore excursions, tours from Alexandria port to Cairo, port said port tours, Alexandria shore excursions.  He did his best to project a positive image of Egypt. We were met on time at the cruise ship and Bassem did his best to customize the tines spent at the various sites to meet our requests. The places he took us for lunches were very suitable and we thought The Mena House was excellent.
I plan to post a review on Trip Advisor shortly and have a posted a You Tube video (called Egypt Excursion). I will send you the links.
Thanks for everything,
Robert Horwitz
Toronto, Canada