Luxor is the capital of Egypt in the Pharaonic era, located on the banks of the Nile River, which divides into two eastern mainland and the west, which is the capital of the province of Luxor in southern Egypt, located between latitudes 25-36 north 0.32-33 east, away from the Egyptian capital Cairo about 670 km, and north of the city of Aswan about 220 km, and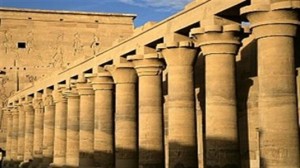 south of the city Qena about 56 km, and south-west of the city of Hurghada about 280 km, is bordered to the north center Qus and Qena, and South Center Edfu, Aswan, and the east the Red Sea Governorate, on the west by Armant Center and the New Valley Governorate, the nearest sea ports of the city is the port of Safaga, nearest airport is Luxor tours International Airport.
Due founding city of Thebes to the Fourth Dynasty around 2575 BC., And even the Middle Kingdom were not good more than just a collection of huts Mini contiguous, though they were used as a cemetery for the burial of the dead, he was buried where provincial governors since the Old Kingdom and Then, and then became the city of Thebes later the capital of Egypt in the era of the Egyptian family eleventh at the hands of Pharaoh Mentuhotep I, who succeeded in unifying the country again after the chaos transmitting Egypt in the First Intermediate Period, and has been the city of Thebes, capital of the Egyptian state until the fall of Pharaohs and family Thirty at the hands of the Persians 332 BC..
 Luxor Temple of the Great ancient Egyptian temples complex is located on the east bank of the River Nile in Luxor today known as the (ancient Thebes). Founded in 1400 BC.
Luxor Temple was built for the worship of Amun Ra and his wife Mut and their son Khonsu; they lords also called Trinity title Tibi (Theban Triad). Luxor Temple was built during the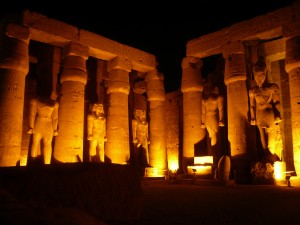 reign of the kings of the Eighteenth Dynasty, and the Nineteenth Dynasty. The main existing temple buildings are those built by the kings of Amenhotep III (1397-1360 BC. M.) And Ramses II (1290-1223 BC…) (Which added to the temple forecourt edifice and Almslten)? Also set up King Thutmose III (1490-1436 BC.). booths for visitors to the holy trinity of good, as the Tutankhamun (1348-1337 BC.). Complete inscriptions walls. The tripartite destroyed the cabin, which had been constructed by the reign of Queen Hatshepsut and King Thutmose III (of the eighteenth dynasty); then rebuilt in the reign of King Ramses II.