Sharm EL- Sheik Shopping Tours
Egypt last minute representative will meet you at your hotel and take you to begin your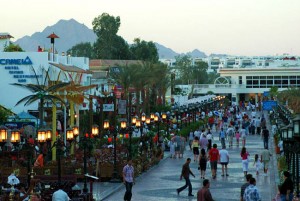 shopping tour in the most famous Sharm markets, that is the Most important souvenirs that you purchased from markets Sharm el-Sheikh, are: t-shirt made of Egyptian cotton and printed drawings private life in Sharm el-Sheikh and symbolize usually the sea, coral reefs and fish, along with the sharm Sheikh famous also bottles sand colored can write your name inside Bhabiyat sand, Bedouin and silver jewelry and other souvenirs and gifts.
Today we will tour among markets beautiful, then take a look at the city from the highest point, Then conclude this episode month's mosques visit.
There are many markets in Sharm El-Sheikh .. But the largest and most famous Mall is located at the beginning of the city. The Mall last very, very large in Naama Bay Street.
The market is located in Naama Bay Street, it is more than has lined street countless shops, in addition to the restaurants of different nationalities. Kaltaalandah, Chinese, Japanese, Italian, Egyptian and American… Etc.
Naama Bay Street where the market is not like the rest of the streets Street with asphalt, but paved with marble and smooth stones.
Meets all these scenes with night lights to give a very beautiful sight at the end of this street there Naama Bay. One of the most famous places in Sharm el-Sheikh, will not describe to you, but I invite you to visit The old market of Sharm el-Sheikh, thus named a market for fruit and vegetables, meat and Shui fish and all the basic necessities.
It is not a market for entertainment, but for the purchase of the necessary requirements, and inevitably you will need that lived in Sharm El Sheikh more than two days.
Lunch will be served at local restaurant during your tour, then return back to your hotel / cruise.