Khan el Khalili, Cairo
Egypt last minute representative will meet you at your hotel and take you to begin your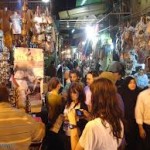 shopping tour in Khan el Khalili,  it's the oldest and the Middle and most prestigious, up Omar Khan El Khalili to more than 600 years, since the Mamluk era, due ratios Khan El Khalili to Yarkas Khalili, one of the princes of the Mamelukes and he was a large traders in the era of Sultan plum in 1400 AD and traders Hebron Palestinian who immigrated to the area and set up large trade.
Khan el-Khalili was built over the tombs of the Fatimid caliphs, where ordered Khalili that tombs are moved to another location and ordered the establishment of Khan El Khalili.
Journey inside the Khan El Khalili
Khan el-Khalili features oriels overlooking the street, and many public water fountains from copper, and narrow alleys of the neighborhood and very crowded, there Bakhan many traders and many of the goods.


Months goods Bazaars
• diamonds, gold and silver
Papyri Tagged hieroglyphics or poems.
• rosaries made of olive seeds or plastic made from coral, amber, turquoise and there is also a swimming pool made of sandalwood.
• Hold the Eye of Horus.
• perfumes and incense.
Coffee Fishawi
The coffee Fishawi of the most famous cafes in the Khan el-Khalili, but in Cairo and the oldest where coffee was founded Fishawi in 1772 AD during the reign of Mohammed Abou El Dahab and your back to Egypt.
Coffee is divided into several galleries most important
• lounge Albasfor and that was favored by King Farouk I and specialized VIP guests
• a masterpiece, a beloved artists.
• hall rhyme.
During your tour you will have lunch at local restaurant, finally you will be back to your hotel / cruise.