Today our appointment with the harvest of the World Tourism in 2011 through the barometer report issued by the World Tourism Organization of the United Nations last May after a few days ago and it turned out all the numbers from around the world.
Before talking barometer for harvest 2011 says in the introduction, the World Tourism made a strong start for the very first months of 2012 increased the proportion of international access for tourists to 5.7% in the first two months, which is a continuation of the trend rally that began in 2011 after a crisis in 2009 economic crisis.
He pointed out that the barometer was often upside in all regions of the world except the Middle East due to the effects of the Arab revolutions spring and the ramifications that still exists until the date of issuance of barometer. more info click here:  Egypt Tours
And look for the latest trends in world tourism and travel made by the barometer, we find that the number of tourists in the world rose in 2011 by 4.6 percent to 982 million tourists after it was 935 million tourists in 2010, ie that the world is approaching quite a billion tourists touring the world tourism .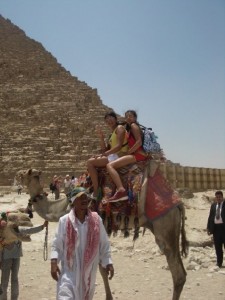 Also exceeded tourism receipts world number one trillion dollars in 2011 has reached to 1030 trillion dollars, equivalent to 740 billion euros in various parts of the world during 2011, up from No. 928 billion dollars or the equivalent of 700 million euros in 2010 and therefore increased revenue from tourism global rate of 3.8%.
In addition to the proceeds of the global tourism has achieved tourism also the proceeds of export through international transport of passengers has increased this revenue to $ 196 billion in 2011 to increase its total revenues earned by the global tourism to 1.2 trillion dollars, equivalent to $ 3.4 billion per day on average.
As a result, has become the global tourism, including travel and movement of transport for passengers account for 30% of total world exports of services and 6% of the total exports of goods and services.
As a rule export in the world tourism has occupied the fourth place in this list after each of the fuel, chemicals and foodstuffs, while it ranked first in many developing countries.
Appeared clear from the barometer success of the five first in the list of countries with the highest reception of tourists in the world in 2011 to retain arranged in 2010, where France came in first place in terms of the number of hits the international tourist number reached 79.5 million tourists, after the number was 77.1 million tourists in 2010, The United States came in second place with 62.3 million tourists, followed by China in third place with 57.6 million tourists and Spain fourth with 56.7 million tourists, and Italy fifth with 46.1 million tourists, Turkey has succeeded in an offset from the center of the United Kingdom Sixth, after the number of tourists received by Turkey in 2011 29.3 million tourists a number after the figure was only 27 million in 2010, while the United Kingdom fell to seventh place with 29.2 million tourists, after the figure was 28.3 million tourists in 2010.
As for Egypt, because of the conditions experienced in the last period after the revolution of January 25 was down the order of Egypt in the list of countries with the highest reception for tourists from the center eighteenth in 2010 to No. 26 in 2011, where the number of  tourists from 14.1 million tourists in 2010 to 9.5 million tourists in of 2011.
Thus Egypt came out of what we call the Club 20 countries of the world's top tourist attraction, which had entered a one-time or for the first time in 2010.
In the list of countries in order to achieve the most tourist revenues barometer pointed out that the first ten countries in the list of 2010 maintained their positions in the same order in 2011 where it came from the United States in the first place unrealized revenue of 116.3 billion dollars after the 2010 revenues of $ 103.5 billion only.
Spain came in second in the list, no far from the proceeds of the United States as it has achieved $ 59.9 billion revenue in 2011 compared to $ 52.5 billion number in 2010 and France came in third place and fourth place in China and Italy in the fifth.
For Egypt has also declined due to the decline in numbers came in 33rd with proceeds amounted to $ 8.7 billion in 2011 after it was in 2010 at No. 22 in this list revenues amounted to $ 12.5 billion, and came immediately after Saudi Arabia in the 34th proceeds of $ 8.5 billion after was ranked 37 in the year 2010 revenues $ 6.7 billion.
Topped Germany's list of most spending on tourism in the world any who spent larger amounts out of their countries and came top of Germany to the list, no 84.3 billion dollars in 2011 after he spent the Germans 78.1 billion dollars in 2010 and came tourists, Americans in second place with 79.1 billion dollars and then China United Kingdom and France and offers tourists the Russians to seventh place with $ 32.5 billion.
As for Egypt came in the center of this session was to spend the existing $ 2.2 billion in 2011 to maintain the same position in the same list in 2010 the same number of tunnels.
It was the first Arab country in this list are Saudi Arabia, which came in the seventh century and tourism spending reached $ 18.2 billion in 2011 after it was ranked eleventh in 2010, spending reached $ 21.1 billion. published by: last minute Egypt